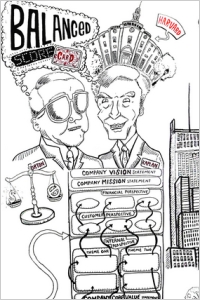 Press Release: 28th September 2013, Winchester, England.
Intrafocus has produced an informative and very accessible stop-motion video to explain the Balanced Scorecard. The Balanced Scorecard methodology has been in use for over 20 years. It is significant in that it forces organisations to consider both financial and non-financial measures. It also requires them to link metrics to objectives and business strategy.
"We know the Balanced Scorecard is not new" says Intrafocus "but it is still often misinterpreted and not used as effectively as it could be. By producing this short video we hope to clearly and concisely demonstrate that the Balanced Scorecard is one of the most useful business management tools available"
Intrafocus provides the world acclaimed balanced scorecard software QuickScore into the UK, Europe, The Middle East and Africa.
QuickScore is the only Balanced Scorecard Software formally recommended by the Balanced Scorecard Institute. It provides the means to link strategy to objectives, metrics and initiatives. The sophisticated tracking interface turns metrics into 'scores' which are then rolled up to provide a red, amber, green, traffic light assessment for all levels within a company or organisation. This can deliver an at-a-glance health-check for departments, divisions and headquarters.
QuickScore has been available since 2004 in the USA and is highly rated by companies like Starbucks and organisations such as the US Army. Cloud based scorecard solutions are gaining traction in the UK and Europe. It would seem that the time is right to investigate. For more information go to www.intrafocus.com
About Intrafocus:
Intrafocus is a business performance management software re-seller and consultancy. It has invested heavily in lighter-footprint performance management software. Intrafocus believes that companies and organisations want easy to use web-based tools to examine and manage their performance data more effectively.