Business and KPI Management
Quickscore™ is a world acclaimed KPI Software (Key Performance Indicator) management application. It provides a structured approach to building scorecards, dashboards, tasks and reports. QuickScore™ turns your data into useful information ensuring you can make informed decisions about your future.
Create Stylish KPI Dashboards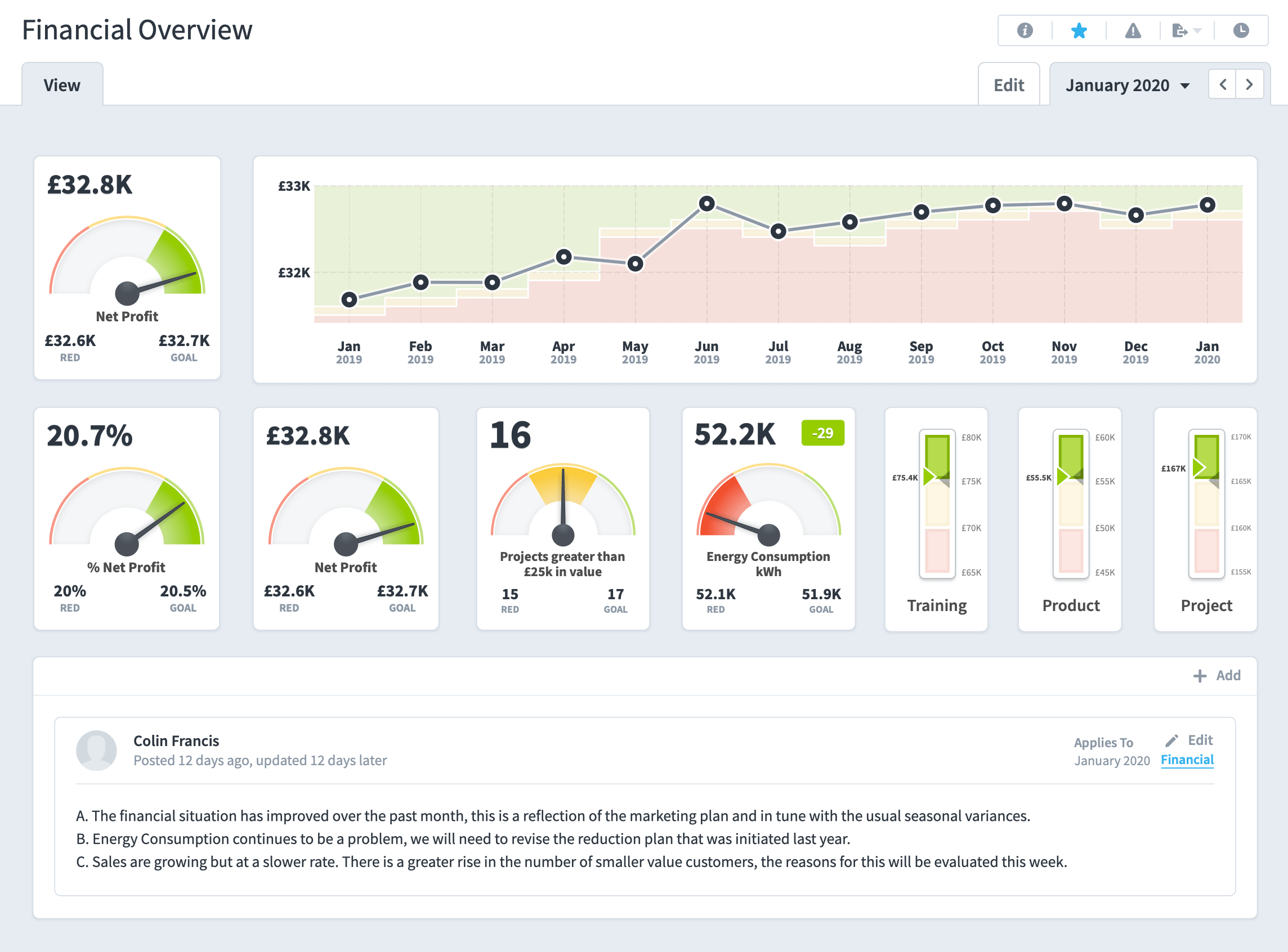 KPI Dashboards can be created using any of the data you have added to the system. This includes the metrics from your scorecards, graphs, strategy maps and images. The drag and drop interface means your KPI dashboards can be created in minutes. And don't forget – they will be updated automatically whenever you update your scorecards – This means no more PowerPoint!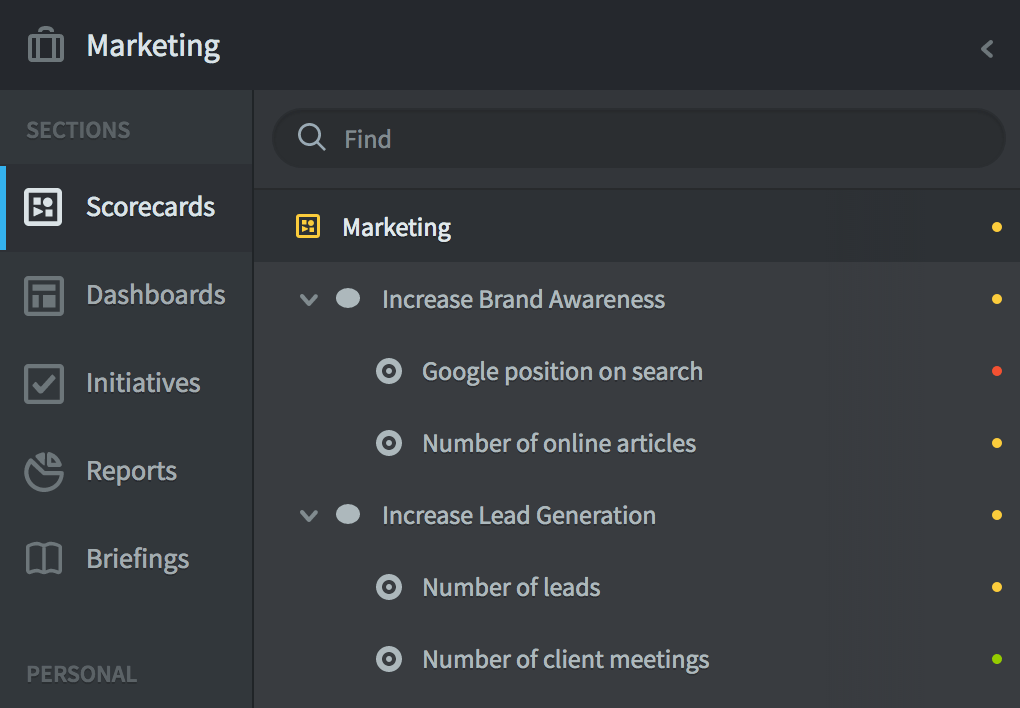 Build Scorecards Easily
Build your scorecards quickly and easily with our intuitive interface. You don't have to worry about the structure, we will take care of that. All you have to do is get your data into the system.
We will even help you get started free of charge. Simply send us 10-30 metrics and we will build a small test system with a scorecard, dashboard and report so you can see your data in place.
Track Goals Over Time
All KPIs and business objectives can be tracked over time with QuickScore. Years of data can be viewed easily. Older data can be archived at the touch of a button.
In addition, with QuickScore, performance thresholds can be changed and tracked as well. Bear in mind business performance goals may not be the same today as they were yesterday.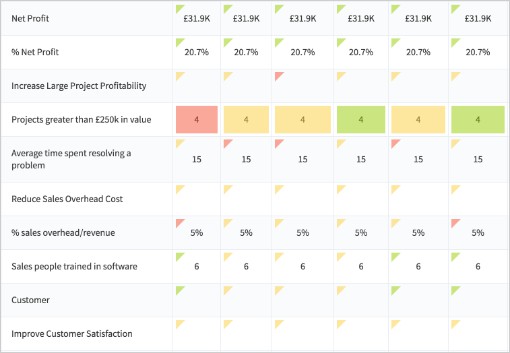 Spreadsheet Style Reports
If you prefer to work with numbers rather than dials and graphs, QuickScore has a point-and-click report generator. You can build as many row and column reports as you like. These can be filtered to include or exclude all of the elements that make up your scorecard.
Powerful Search Facility
Free-form search will return all of the objects you are searching for. Objects can be tagged to enable group searches. You can get to the root of any problem by viewing underlying data, analysing metric trends, and reading other people's comments.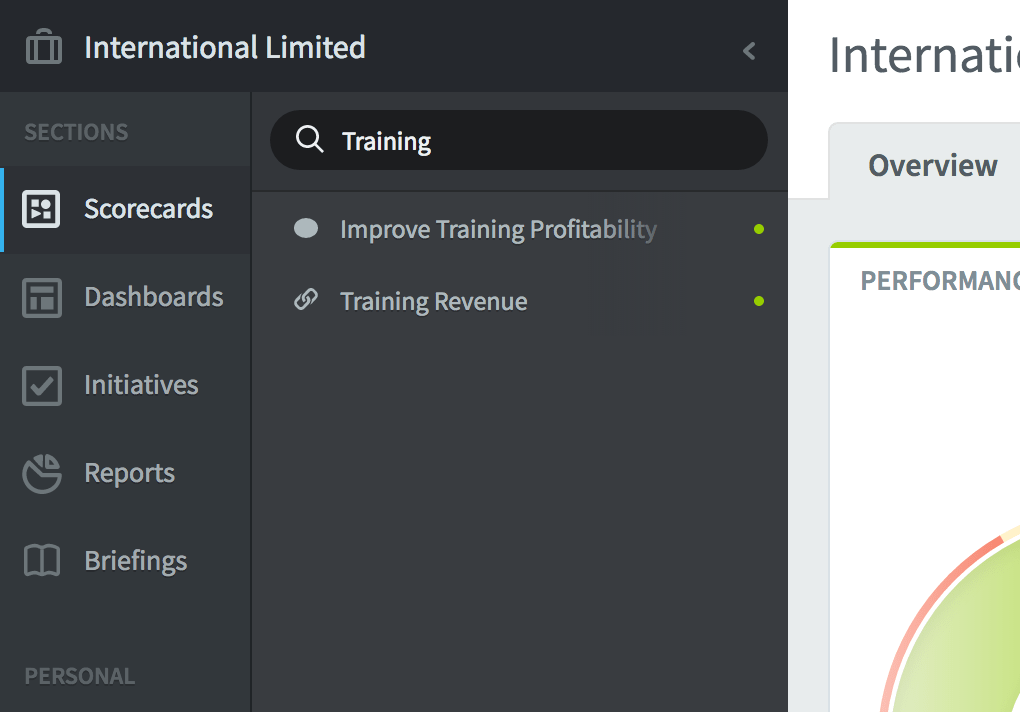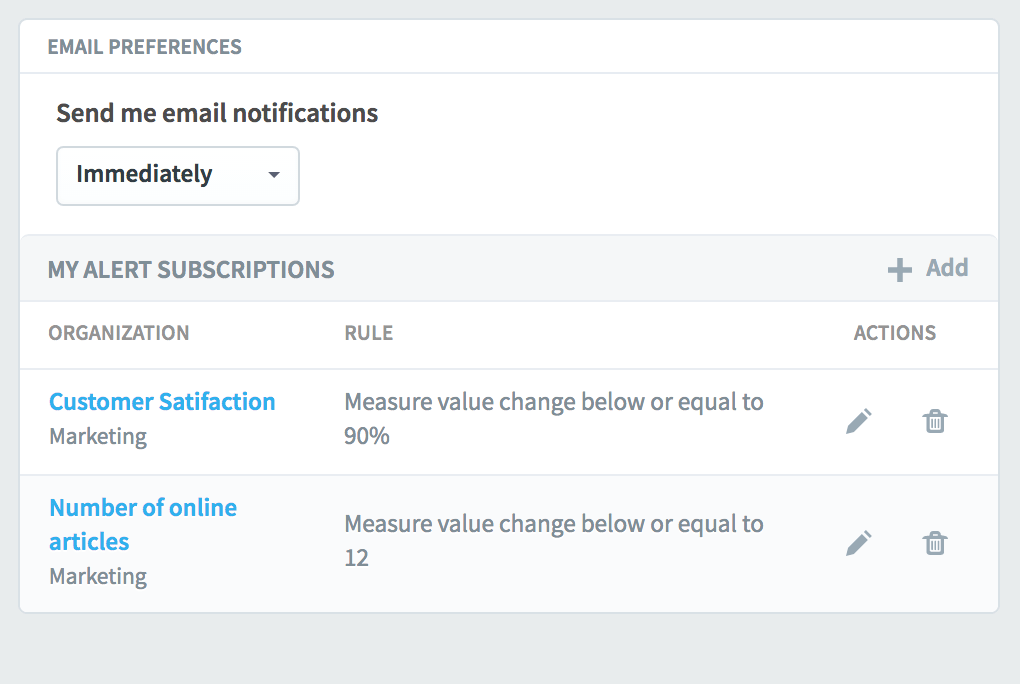 Useful Alert Subscriptions
Stay informed with useful alert subscriptions. Formal reviews may only be held once a month or once a quarter, it is essential to be kept informed.
Set up alerts based on immediate triggers so you will never be surprised again. These can be scores going into the red, notes being added or actual values moving outside a defined threshold 
Integration
There is a good chance you already have a bunch of existing data in some back-end systems. QuickScore can pull data directly from SQL databases, Oracle, via FTP and Secure FTP or from spreadsheets held in a staging area. Once the links have been set up, the updates can be scheduled to take place automatically. So there is no need to update QuickScore manually!
Nothing To Install
QuickScore is a browser-based application, as a result there is no installation required. We take care of the servers, operating system and the application. We apply updates so you don't have to worry. If you want to run QuickScore in your own data centre, we can do that as well. We would be happy to provide you with the software.
Try our free view-only demonstration system right now, click on the image to the right and use the username sam and password smith.
Mobile Enabled
QuickScore KPI software is fully mobile enabled and the application has been built using a responsive platform.
This means you can use all of the application features on whatever device you like from phone to tablet to laptop to desktop.
Free Online Training
QuickScore is very intuitive as an application. However, we are very happy to provide two one-hour free online training sessions to get you started. If you prefer to do things yourself, there are over 25 guides for our KPI Software, from getting started to more complex integration and import. If you have a complex need, we can provide a full-day training session at your offices. For more information on QuickScore training go to the Training pages. 
KPI Software and Business Management
QuickScore is aimed at businesses and organisations that want to record and manage their KPIs effectively. It is one of the world's most acclaimed KPI Managers. QuickScore makes it easy for you to set up a Scorecard and not concern yourself with structure or terminology.
For most organisations, it is more important to consolidate their KPIs into a KPI dashboard or several KPI dashboards. A dashboard gives you the ability to select measures and display them together or build a comparison. KPI management requires users to look at many pieces of information to allow them to make sensible decisions. It is vital that any anomalies are investigated with reference to related measures and not looked at in isolation. This is where QuickScore can add significant value.
Any KPI dashboard software is only as good as the KPIs and objectives that are added to the system. KPIs take many forms but are usually the high-level indicators that relate to overall health. They also tend to be related to a strategic outlook; something that the organisation is aspiring to achieve. Typical KPI examples in the financial function might be Revenue and Profit. In a Customer related function, they might be Sales Volume, Customer Satisfaction or Net Promoter Value. When associated with internal processes examples might be Order Fulfilment, Rework Level or Time to Market. When looking at people you might find Employee Satisfaction or Revenue Per Employee. There are many KPIs that are 'standard' for any organisation. For a good starting point read Bernard Marr's book; Key Performance Indicators, The 75 measures every manager needs to know.
If you have any questions, please contact us at helpdesk@intrafocus.com
QuickScore Trial
Take out a free 30-day trial today.
No obligation, no credit card required