Strategy and KPI Software
Balanced Scorecard Software
What should I expect from a Balanced Scorecard
software package?
Optimize Your Business Today!
Balanced Scorecard Software
Balanced Scorecard Software
If you are using the Balanced Scorecard methodology as your strategic planning process, then first up, congratulations! You have chosen well. Most of the biggest and best organisations across the world trust in the Balanced Scorecard. It is a process that has been around for more than twenty years. And that does not mean it is old and stale. The Balanced Scorecard Institute, the de facto holders of the standard, has made sure that advances in business processes, technology and care for the environment have been added to the methodology over the years. Simply put, it works.
Strategic Planning is a business process just like any other business process. It is not an ad hoc activity that takes place once a year to develop a series of goals and objectives that get shelved until they are looked at again the following year. The process has seven steps. It is iterative and has feedback loops at every stage. The stages are described in brief below. You can find a full explanation of the process by looking at our seven-step Strategic Planning Process or SPP. There is also an online course available that provides a certificate in Balanced Scorecard Strategic Planning
The final step two steps of the process are Communication and Automation. These stages are very closely linked. It is imperative that a strategic direction is clearly communicated, but its success should be measurable as well. To measure effectively a measurement tool should be in place. The Balanced Scorecard Institute recommends that Spider Impact is used. 
Any communication system or measurment tool should be able to handle the following steps associated with the process:

1. Foundation
The foundation of any strategy is a good Vision statement. Next comes a statement of Purpose. Both of these are built upon an organisations' Core Values. Any balanced scorecard software system must have the ability to record these essential items.
Typically, this will be found as part of a Strategy Map.
2. Assessment
There are many types of assessment that can be made when formulating a strategy. SWOT, Porters Five Forces, Value Proposition, Gap Analysis, to name a few. It is the results of the assessment that are added to a balanced scorecard software solution. The results tend to come in the form or Themes or Key Performance Areas or Strategic Priorities. All of these need to be recorded in the system.
3. Strategic Objectives
Strategic objectives lie at the heart of any strategy. Whether you are using a balanced scorecard approach or any other strategic methodology, your strategic objectives are where the rubber hits the road. It is at this point where true accountability takes place. Strategic objectives are assigned to people, individuals, not departments. Your balanced scorecard software has to be able to not only record strategic objectives but also assign them to owners who will be accountable for successful delivery.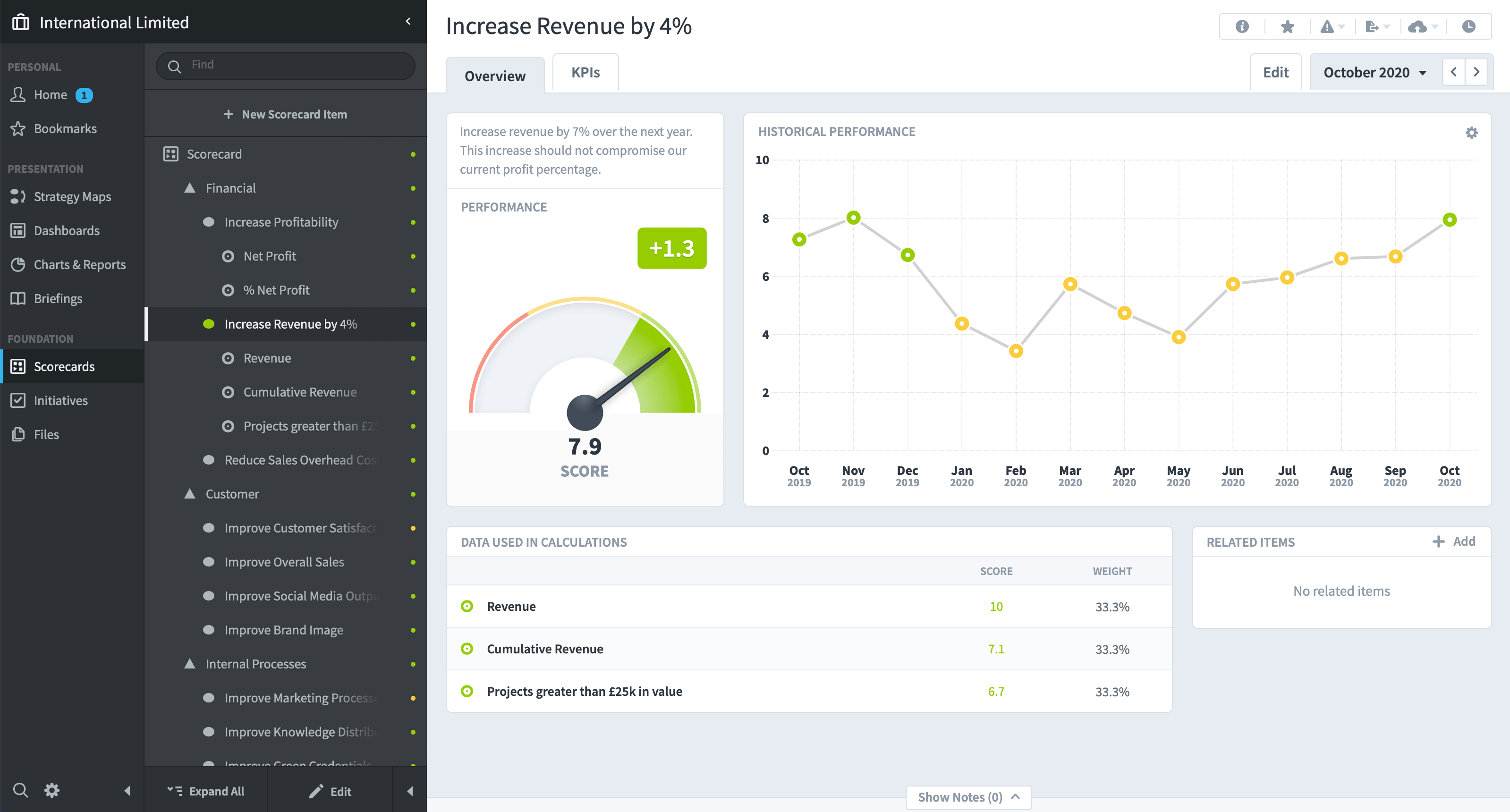 4. Measures
The only way you can determine the success of a strategy is to measure the outcome of your objectives. Measures, often referred to as KPIs (Key Performance Indicators) are one of two items in a system that are updated frequently (the other being Initiatives/tasks). Having quick and easy access to the measures you own is essential. Spider Impact recognises measure owners and presents them with the information they need with a single click of a mouse button.
5. Projects
In the balanced scorecard process projects, sometimes referred to as initiatives, come towards the end of the planning process. This is intentional. The rationale is until you know what you are trying to achieve, your objectives, then how do you know what projects to put in place to drive your strategy forward? With Spider Impact, projects are held separately and can be linked to objectives or even measures. You have the flexibility to do what you need to do.
6. Communication
Far too many great strategies fail due to poor communication. It is not that they are bad strategies, it's just that they are not communicated to management and staff effectively. The result is that there is little interest or buy-in. The solution is simple. Make sure that people know what they are responsible for and that everyone can see how well they are performing. You need to give them the tools to complete their tasks, so give them access to to your balanced scorecard software solution. Then they will see everything and get instant reminders when attention to an objective, KPI or task is needed.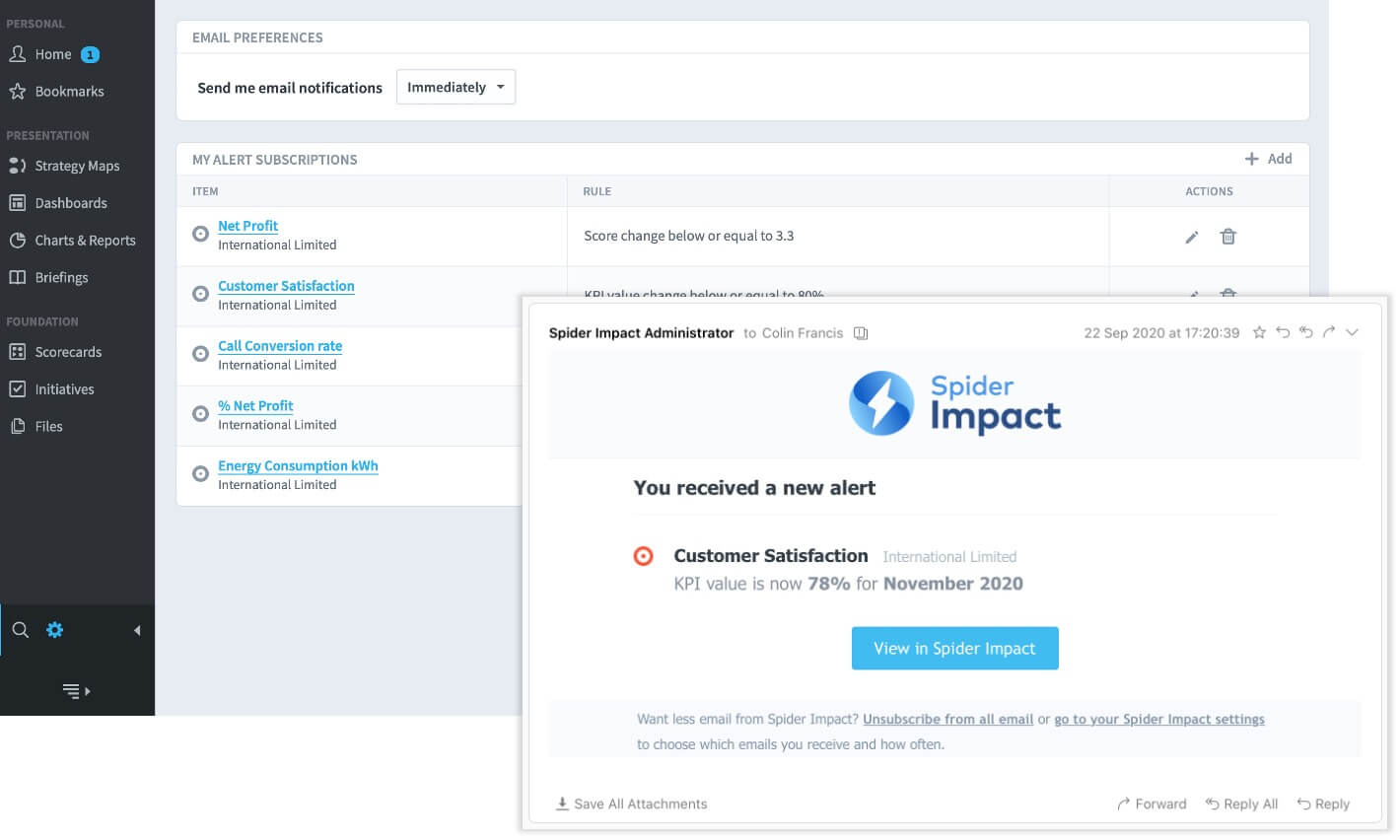 7. Automation
Finally, don't put your faith in spreadsheets and presentations. Yes, they are familiar tools and everyone knows how to use them. But unless you automate your strategic process, your strategy will fail. You need to align your management and staff to your strategy. To do this you need to take control. You need to make your strategy highly visible and assign ownership. You need to ensure everyone knows what they need to do and that they are held accountable. Spider Impact can help you do that. Take out a 30-day free trial of the software and make an impact today.
Spider Impact Trial
Take out a free 30-day trial today.
No obligation, no credit card required