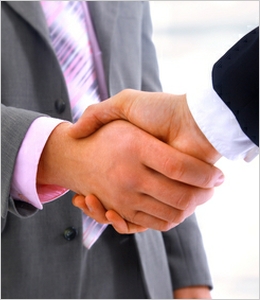 Press Release – 21 July 2014:  Intrafocus, providers of business performance and strategy management software has partnered with CustomerSure, a leading provider of customer satisfaction survey software. Intrafocus, who has had great success offering business performance and strategy management software to Europe, the Middle East and Africa, has entered into an agreement to re-sell CustomerSure as part of its software portfolio.
"It became clear to us that our portfolio missed a vital element, that of seeking customer feedback," says Clive Keyte, Director at Intrafocus. "Our mainstream product QuickScore can very efficiently manage strategy, objectives and metrics. But managing these things in isolation can never tell us if a strategy is actually working. Only asking your customers can tell you that."
By adding CustomerSure to the software portfolio, Intrafocus believe they have an exceptionally strong combined offering. With CustomerSure you can set up a survey in less than 10 minutes using a library of tried and tested questions. CustomerSure encourages users to send short surveys often. This is very much in keeping with Intrafocus view that customers should be contacted often (not too often!) with small bites of information rather than suffer long and sometimes tedious reports or meetings.
CustomerSure is delighted to have Intrafocus as a partner.
"Combining CustomerSure with the Intrafocus products and services offers a unique benefit for people who understand the link between customer satisfaction and growth," says Guy Letts, Managing Director at CustomerSure. "We were delighted to be selected by Intrafocus for the customer satisfaction component of their powerful software suite. Time after time our customers tell us stories about the benefits they get from customer feedback – deep insights, retaining customers they didn't know were at risk and the reassurance of seeing loyalty increase."
For more information on how CustomerSure can help you better understand your customers' needs and how the product works, visit the CustomerSure web pages on the Intrafocus Website.
About Intrafocus:
Intrafocus is a business performance and strategy management software reseller and consultancy. For example, they provide QuickScore the only software formally recommended by the Balanced Scorecard Institute. QuickScore can link organisational strategy to objectives, metrics and initiatives. The tracking interface turns metrics into 'scores' which are then rolled up to deliver an at-a-glance health-check for departments, divisions and headquarters. Intrafocus supplies products to Europe, The Middle East and Africa.
About CustomerSure:
CustomerSure is a customer satisfaction solution that allows organisations to automatically gather and respond to feedback from every customer. Online retailers and other organisations that are committed to keeping their customers happy use the CustomerSure solution to identify customer problems and fix them. These organisations benefit from higher sales, fewer lost customers or clients, and more positive reviews and references. CustomerSure was founded by Guy Letts, formerly a director at software giant, Sage.