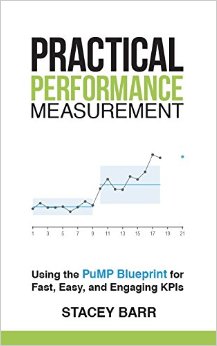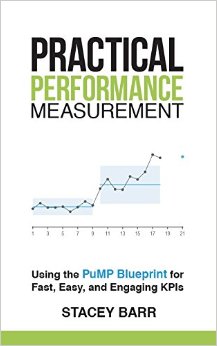 Practical Performance Measurement – Book Review. If you had to sum up Stacey Barr's new book in a single word, and indeed her whole approach to performance measurement, you would say 'practical'. Stacey Barr is one of the planets foremost authorities on organisational performance measurement. She is internationally recognised and the creator of the PuMP® methodology. She has been directing her own company since 1999 and has helped many organisations around the world to develop meaningful performance measures.
After a couple of introductory chapters Practical Performance Measurement moves to the familiar ground of the PuMP® methodology with a section on each of the eight steps. The book recognises that developing meaningful performance measures, and most importantly getting institutional buy-in from everyone, is a long-term process. However, and refreshingly so, Barr advocates getting started quickly through an eight-week PuMP Blueprint Pilot Project. The rationale is action is better than inaction and that just like everything else in life, course-corrections can be made in-flight. Using famous quotes at the start of each chapter, Barr very effectively hammers home the key points she is making. In this case a wonderful Walt Disney quote is used: "The way to get started is to quit talking and begin doing". Something that many of us who have worked in in large organisations can identify with.
Barr acknowledges: "PuMP® is not the only way to go about performance measurement" but goes on to say "It [PuMP] is the way that reflects my journey and my experience, and it's helped thousands of others who didn't have a way or a way that was working for them."
Of this we can be sure, the PuMP® methodology is a good one. There are thousands of people in business who can testify to this and furthermore academia has recently endorsed the approach through accreditation from the George Washington University.
The book is full of good practical and down-to-earth advice. Structured as a step-by-step guide it is easy to read and can be easily applied to any existing situation. The focus is absolutely on performance measurement and therefore it sits well in larger strategic framework methodologies such as the Balanced Scorecard. Barr says of the Balanced Scorecard "The Balanced Scorecard is a powerful strategy tool because it asks us to be very deliberate about what truly matters for organisational and company success" she goes on to say "Little in the Balanced Scorecard literature provides detailed advice on designing and finding truly meaningful measures." In this she is correct.
By combining the practical advice and guidance found in "Practical Performance Measurement" with a strategic framework like the Balanced Scorecard, a formidable process for strategic management and evidence of success through performance measurement can be harnessed.