Strategy Resources
Strategic Planning Checklist
Let us help you demystify strategic planning
Why do I need a checklist?
Wherever you are in the strategic planning process, it is worthwhile to run a check to ensure you have done everything you need to do. Strategic planning is not complex. Implementing a strategy might be, but the strategic planning process is quite straightforward. At its simplest it consists of; defining a vision of the future; communicating the vision; breaking it down into priorities and work elements, measuring progress; assessing the plan and starting again. Most strategic planning cycles reiterate annually and have a three to five-year outlook.
The following document consists of a checklist containing all of the elements required for a good strategic plan and a commentary for each element. It can be used as a gap-analysis tool. The items on the list are based on decades of experience of practitioners who have been, and are still, involved in strategic planning.
Completing the checklist itself will not ensure a successful strategy, it will, however, ensure you have all of the elements identified to allow you to implement a successful strategy.
Strategic Planning Checklist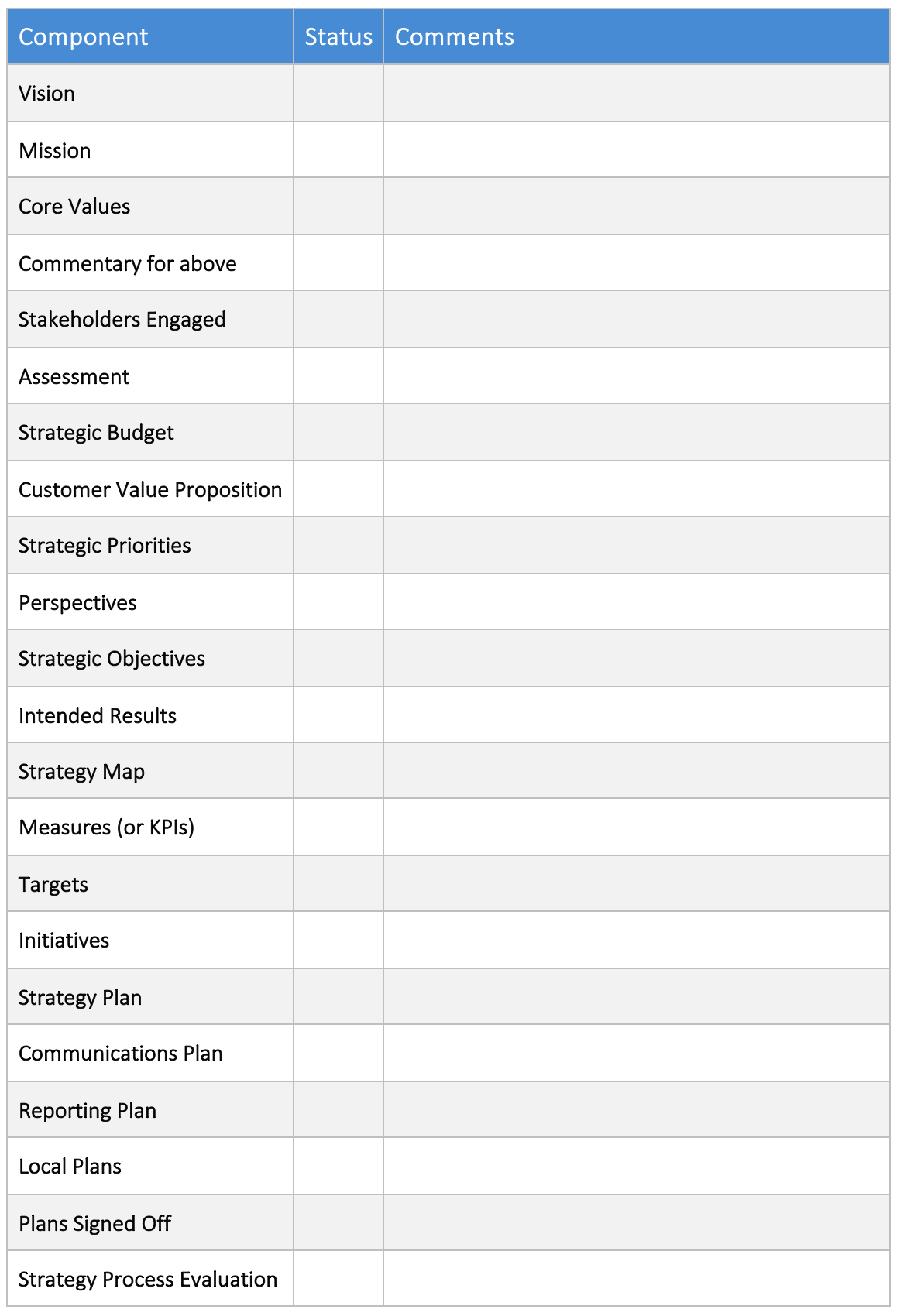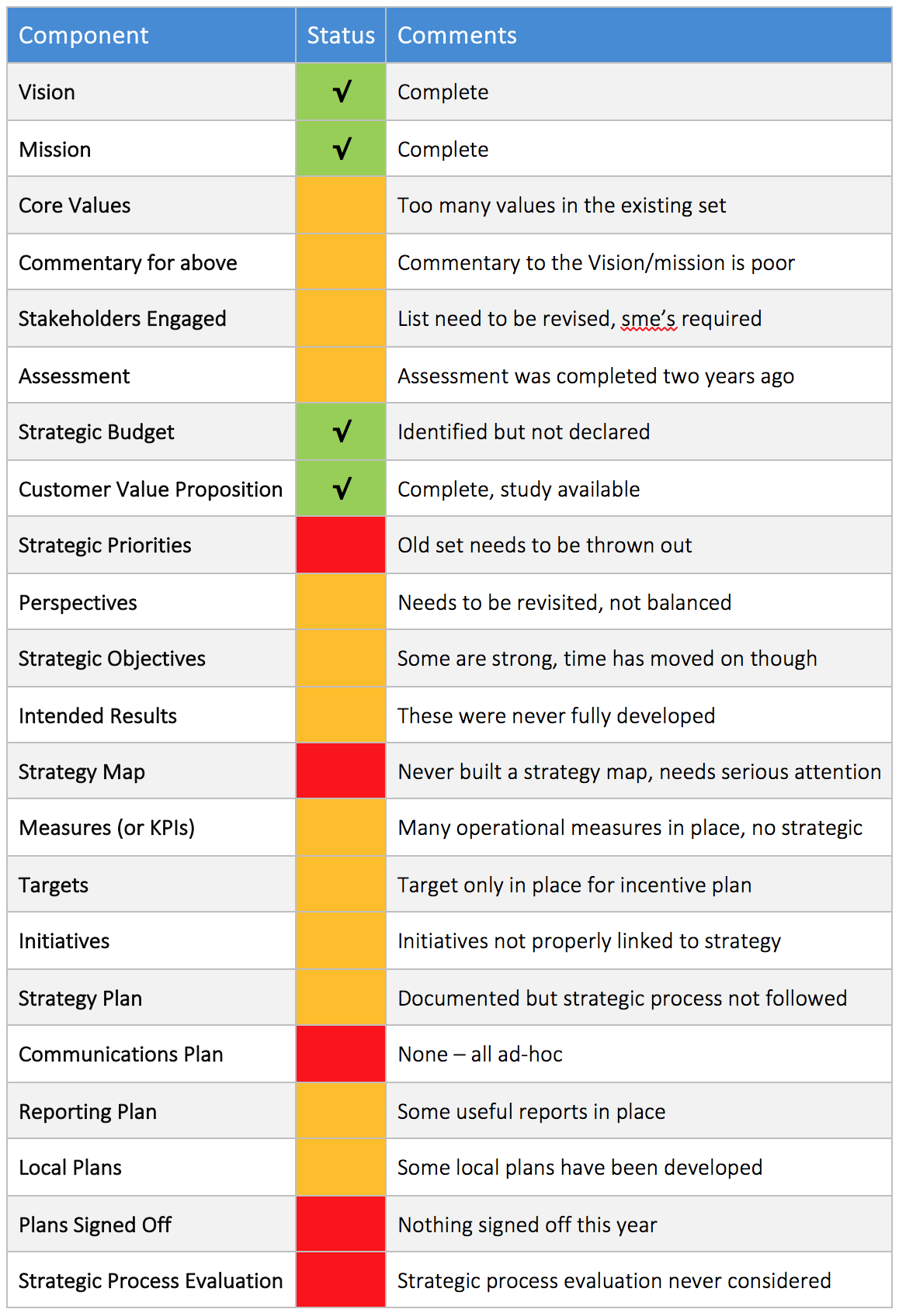 Vision
Where we want to go – The cornerstone of any strategic planning activity. Without a vision there is nothing to build the strategy upon. A vision statement should be short and inspirational. It describes where a company or organisation wants to be in the future. It sets the tone for all the work that follows. Do not attempt to embark on a strategic planning activity without a vision. For example: Transforming society through the provision of ultra-high-speed mobile information services.
Mission
What we do today – A short statement describing who you are, what you do and how you do it. A good mission statement will be short and instantly recognisable by people within the organisation to which it applies. For example: The number one provider of ultra-high-speed mobile information networks across the United Kingdom and Europe
Core Values
The foundations upon which the organisation stands. Usually expressed in five or six words or phrases with a short explanation for each. For example: Customer Focus – we focus on our customers and pay attention to what they say at every opportunity.
Vision, Mission, Core Values Commentary
This component has been included intentionally. It is easy to rely on labels or short statements when it comes to Vision, Mission and Core Values. However, a label can be interpreted in many ways. For all aspects of the Strategy Plan, there should be a commentary. A commentary is a short paragraph, it is not pages and pages of information. It should convey the true meaning using simple easy to read sentences.
Stakeholders Engaged
A successful strategy needs to be inclusive. Do not be fooled into thinking a strategy can be defined by senior management and simply distributed in the hope it will be implemented. It will not happen. Vision, mission and core values can be defined by leaders, this is desirable. A good leader will set the organisation on the right path. Once this is done, the work of creating the strategy must include the people who will implement it and the beneficiaries. In general, this includes three groups: 1. Managers, 2. Subject Matter Experts (from the staff and/or externally) and 3. Customers.
Depending on the size of the organisation, teams need to be set up with representation from each of these areas.
Assessment
Information needs to be gathered from a variety of sources and distributed to the stakeholders. The information should include:
A summary of the existing strategy and current capabilities
External market information, political and social trends
Views from a small number of existing customers
A methodology should be used to gather and analyse the information. The two most common are SWOT (Strengths, Weaknesses, Opportunities, Threats) for an internal analysis and PESTLE (Political, Economic, Social, Technological, Legislative, Environmental) for an external analysis.
Strategic Budget
There are arguments for and against declaring a Strategic Budget early in the cycle (or even at all!). Most organisations are usually quite clear as to how much money is available to spend. By declaring it early everyone will be aware of what is, and what is not possible. Conversely, declaring a budget early can stifle creative thought resulting in a mediocre strategy.
Our rule-of-thumb experience suggests more is gained by declaring a budget early.
Customer Value Proposition
A good vision and mission statement makes it possible to describe exactly, and in compelling terms, what is being offered to a customer. The only exception is if a break-out strategy is being devised to take the organisation into a completely new direction. The Customer Value Proposition starts with a statement that clearly describes the product or service firstly in terms of its functionality and secondly in terms of the relevance, benefit and difference it makes to the customer. Do not fall into the trap of using internal jargon.
One of the most famous templates still widely used today is from Geoff Moore's seminal book 'Crossing the Chasm".  It goes like this:
For – a short description of the customer
Who – a short description of the problem
Our – a short description of the solution
So that – a short description of the benefit derived.
The value proposition should be no longer than 30 words, for example:
For people who need fast communications where ever they are our extensive networks provide ultra-high-speed connections so that they can send and receive information in any format including documents, images and video.
Strategic Priorities
Sometimes called Strategic Themes. These are the three (or four, maximum) focus items for the whole organisation that run through all aspects of the strategy. For example, Business Growth or Customer Service might be strategic priorities. It is of vital importance there is a short statement that explains what is meant by the labels. What one organisation means by customer service might be completely different to another.
Perspectives
There are four perspectives in a classic balanced scorecard: Financial, Customer, Internal Processes, and Organisational Capacity. In the balanced scorecard methodology, the four perspectives and the order are explicit and intentional. The reason for this is that 'causal' links must be made from organisational capacity through to the upper layers of customer and financial.
It may be that your organisation uses a different set of perspectives. This is fine, it just means you are not using the Balanced Scorecard methodology.
Strategic Objectives
Strategic Objectives, more than any other components, are the backbone of a strategy. The strategic objectives are the working interpretation of the vision, mission and strategic priorities. They should be balanced in number and complexity across the perspectives.  A strategic objective is a label that provides guidance to the allocated owner as to what needs to be done to implement part of the strategy. In isolation it has little worth, it must include a strategic result and be part of a strategy map. Examples of strategic objectives include Increase Revenue or Improve Market Awareness or Improve Sales Targeting.
Intended Results
During the process of creating a strategic objective, the desired outcome of that objective will be discussed. If it is not, what is the point of the objective? The outcome must be formally recorded as an Intended Result. This commentary should clearly communicate exactly what is required by the label. A label can be interpreted in many ways; it is important to ensure it is interpreted the right way.
For example, the label Improve Market Awareness, for a new online retail organisation might have the indented result: "Improved market awareness by achieving higher online rankings in all of the major search engines."
However, the same label, Improve Market Awareness, for an established insurance company might have the intended result: "Improved market awareness by increasing the percentage of new customers and maintaining the existing customer base."
Notice that the language used in the intended result is 'outcome' based. That is, it assumes the outcome has been achieved.
Strategy Map
The Strategy Map provides the causal links between any investment made in the base organisational capacity layer and the internal process, customer and financial layers. This is the power of the balanced scorecard methodology. The strategy map provides the means to 'tell a story' about the impact of investment or change in the organisational layer (or resource base, which can include infrastructure) on all the layers above.
This is best explained through illustration. In the example below, we can see a logical causal progression from the bottom of the map to the top. If we take one path through the map starting with the strategic objective Improve Supply Chain Technology, then the 'story' we might tell could be as follows:
"By improving the technology we use to manage our supply chain and strengthen the relationships with our suppliers, we will improve our inventory processes ensuring well-stocked shelves, improve the in-store experience for our customers and result in an end to end reduction in logistics costs."
Measures
Every strategic objective should have at least one measure (sometimes called a Key Performance Indicator or KPI). And as a rule of thumb, no more than three measures. The measures must be owned. Without ownership, nothing will be done. Creating meaningful key performance indicators is not a task that should be taken lightly. Refer to How to Develop Meaningful KPIs for more information on this subject.
Targets
Every measure needs to have a target. Targets are usually set annually and often for incentive purposes. A good target should be realistic and should have buy-in from the target owner. If there is no data available to determine a target, do not set it arbitrarily. Wait until there is enough data to make a proper judgment. Rule of thumb suggests seven or more data points can provide a guide.
Initiatives
Initiatives, or more properly, Strategic Initiatives, are the 'engine' behind a strategy. Without initiatives, there is no change plan, you will simply record and analyse data. Creating initiatives should come at the end of the strategic planning process. Why? Because until you know what you want to do overall (vision), what you are capable of (mission), where your priorities lie (strategic priorities), and what the best improvement areas are (strategic objectives), you will not know how to achieve the plan.
Initiatives describe the projects you will put in place to achieve your plan.
Strategy Plan
All the above must be documented. Do not create a massive document with highly descriptive language. Also, do not create a set of slides with maps and labels. The Strategy Plan must have just enough information to make sense to the organisation it is aimed at. For more information on the make-up of a good strategy plan, refer to Strategy Workshop Facilitation
Communications Plan
The strategy plan, or parts of the plan, need to be communicated to the organisation, stakeholders and in some instances, selected customers. The most important group is the internal group. These are the people who need to be secure in the knowledge that the organisation they work for has a future and knows where it is going.
Reporting Plan
The reporting plan will include information about the systems that will be used to keep track of progress. Gone are the days when a strategy could be managed with a set of spreadsheets and presentations. The market and competition moves too fast to rely on old technology. Dedicated strategy management solutions are either incorporated in major ERP systems of large companies, or bought separately by smaller to medium-sized companies. The reporting plan can be incorporated into the communications plan if required.
The reporting plan should also show that strategic planning is an on-going activity and not something done once a year. By following a good strategic methodology like the balanced scorecard this will happen automatically.
Local Plans
Local plans apply to large organisations where a strategy needs to be cascaded to several divisions or departments. The local plans will take guidance from the corporate plans and then have to go through the whole checklist themselves.
Plans Signed Off
All of the plans mentioned above should be reviewed and signed off by a senior executive. This should be a positive action to demonstrate that the executive team are fully bought-in to the strategy and associated plans.
Strategic Process Evaluation
One of the strategic planning activities that is often missed as part of the process is to evaluate the process itself. This usually happens once or twice a year and requires the key players in the strategic planning group to get together and formally evaluate the process and modify it if required.