Top 10 Technology Priorities – The recent Gartner Executive program survey of more than 2000 CIOs showed that digital technologies are the top priority for 2013. Gartner state that:
"Over the last 18 months, digital technologies — including mobile, analytics, big data, social and cloud — have reached a tipping point with business executives. Analysts said there is no choice but to increase technology's potential in the enterprise".
The top 10 business priorities have remained fairly constant over the past few years but the technology priorities are reflecting a set of disruptive elements that have been slowly infiltrating our businesses. The top 3 more than most. CIOs are bracing themselves for the combined impact technological innovation in Analytics, Mobile and Cloud. This is bringing about a hunt for the best applications and tools that will help transform IT infrastructure, operations and solutions over the next 10 years or so.
Gartner has published the following table: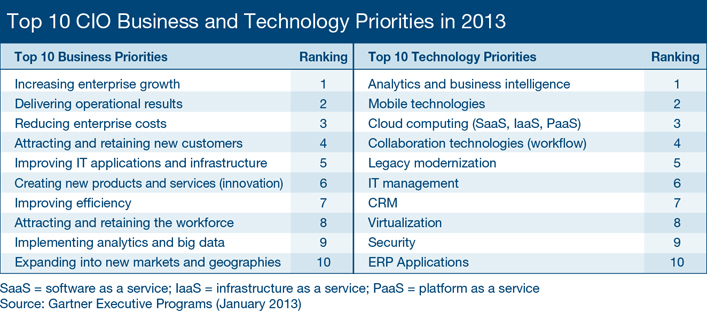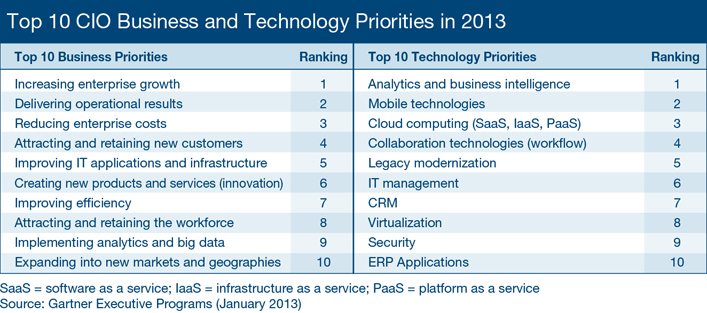 Thankfully, many of the new Business Performance Management tools have been the first to include new analytical methods and are being delivered to mobile devices through Cloud computing infrastructures.
QuickScore is 100% web-based, so there's no software to set up or servers to control. Don't use anything but the net browser on your computer or mobile device to access your performance data from anywhere. We look after all hosting, software updates, and data backups. You run your business.
Needless to say there are occasions when you'll want to host your own data, and we support that as well. We also have customers using our software on classified military networks, so we understand when customers are a little protective of their secrets.
At least in this area CIOs can sleep easy.