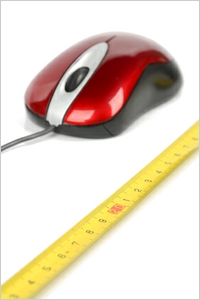 Big data might give you a new insight into what the market is doing. Complex BI systems may give you a better understanding of your customers. Your monthly management reports may show that you are running an efficient organisation. All of this comes to nothing if you do not measure your strategy. Your company strategy determines your future success. And it has to be more than a set of high level principles by which your company operates.
The most successful companies on the planet turn their strategies into objectives that have metrics and ownership. Google is a very good example. Google put into practice the Outcome and Key Result (OKR) method initially used by Intel. The basic principle behind OKR requires that the whole company and every department set a maximum three objectives each.
These should be stretching to achieve and over a challenging time scale. For each objective there should be no more than three Key Results. These are metrics or key performance indicators or performance measures. Whatever you want to call them, they are measurable and have ownership by people, not simply parts of the organisation. It is worth noting that in some companies OKR goes right down to the individual level. Don Dodge, long time evangelist for Google said:
"Every quarter every group at Google sets goals, called OKRs, for the next 90 days. Most big companies set annual goals like improving or growing something by x%, and then measure performance once a year. At Google a year is like a decade. Annual goals aren't good enough. Set quarterly goals, set them at impossible levels, and then figure out how to achieve them. Measure progress every quarter and reward outstanding achievement".
How will this help you measure your strategy? Firstly by forcing people to set OKRs every quarter your strategy will be kept alive. It will not remain on the shelf until the next strategic planning session. Secondly, by giving individuals the opportunity to determine their own quarterly key objectives they will take ownership more readily and therefore want to succeed. Thirdly, by putting in place a transparent measurement system, as OKR advocates, individual results will become highly visible and therefore accountability increased.
In practice, what might this look like? By way of example, let's look at a strategic aim:
To increase sales by offering our products through multiple channels including on-line
A clear objective for this strategic aim could be:
To attain position five or above in Google search for our selected keywords by end of Q2
And the associated metrics could be:
Position in Google search for selected keywords (lag measure)
Number of website pages SEO compliant based on SEOmoz ranking (decreasing, lead measure requires action)
On-line advertising spend per month (lead measure, threshold required, requires action)
You will note that there is a combination of a 'lag' measure and 'lead' measures. A lag measure can be characterised and an after-the-event measurement that charts progress but cannot influence the outcome of the objective. A lead measure can be characterised as a before-the-event measure where there is general agreement that the activity associated to the event will have a positive impact on the objective. A lead measure will influence the outcome of the objective.
Reference was made earlier to a 'transparent measurement system'. Whereas the process of creating objectives and metrics may well be a top-down activity, charting progress towards the end goal should be as transparent as possible for best results. Everyone in the company should be able to see and review the metrics and therefore progress towards the objectives and ultimately the strategy. This is often the biggest change a company has to make. As it is a cultural change it is also the most difficult one to make. Help is at hand. There are a number business scorecard systems emerging that provide a view-only function for scorecards. Some provide a permissions-based selective view so that the process of adopting the cultural change can be eased into over a reasonable period of time.
Whether you adopt OKR or not is not really the question though. The important point is to adopt a process that will keep your strategy alive through constant measurement and review and do not forget your company strategy determines your future success.