How to create KPI Dashboards
KPI dashboards are a vital tool for measuring and evidencing your progress, they tend to form part of a regular reporting pack for managers. Get these right, and you really will be able to manage much more effectively.
Get your KPIs in order
We know that a KPI is a performance measure that tracks progress towards strategic objectives and goals. To recap, KPIs can be used to measure the repeated success of operational goals, and they must be linked to strategic goals and objectives.
There will be KPIs for each department, but each will contribute towards the organisational strategy. Typically, organisations manage this process with a recognised management framework methodology such as the Balanced Scorecard.
What we need to remember in the context of this discussion, is that it's vital to have the right KPIs in place before you start creating a dashboard. Focus on this as your priority and once you have your suite of core KPIs signed off, you can move ahead to defining their presentation for the monthly management pack.
What is a KPI dashboard?
Every business will have its own approach to designing a KPI dashboard. However, organisations that do this successfully will typically:
Get the correct people on-board – Remember that 'too many cooks spoil the broth' and simply involve stakeholders who will need to use the dashboard to aid their decisions. With systems like Scoreboard, no format need be set in stone, and you can easily adjust the dashboard over time as you get user feedback.
Keep the bigger picture in mind – Fancy dashboards may look exciting, but they can easily become confusing and off-putting. Instead, focus on what you are trying to achieve and don't get distracted with all-singing, all-dancing artistic presentations!
Simplify the process with technology – Forget the laborious old days of creating manual data sets from Excel. Modern and browser-based software packages such as Scoreboard simplify and speed the process. Simply select your chosen widgets, set up APIs to draw in the necessary data and use intuitive 'drag & drop' interfaces to create rich and informative dashboards – without any hassle. Even better, Scoreboard can be used as an app to view on mobile devices, anywhere and any time – without any need to install any software.
Keep things simple – KPIs are designed to measure 'key' strategic outcomes. So keep your dashboard clean and simple so that decision-makers can focus on what's important. Ideally, every measure should fit onto a user-friendly single-screen view as a 'snapshot' of progress. Provide a supplementary commentary in the report with details on individual responsibilities. This flags up who is accountable for progress, and gives readers a further point of contact for queries.
Provide context – Your front-level dashboard will provide a snapshot, but your internal customers may value context that helps them to evaluate the numbers more meaningfully. For example, marketing may want year-on-year campaign data and operational teams may want industry benchmarks.
Remember the principles of good design – It's tempting to go overboard with colour but wise to use it sparingly and with purpose. As an example, the red, amber, green RAG system is recognised by all and a great way of flagging up progress. Use grayscale for contrast and pick graphs and displays that everyone can recognise. Scoreboard and Quickscore both make this easy with a host of ready-made drag and drop widgets and templates fro KPI dashboards.
Use more than one dashboard – The beauty of dashboards is that they are suitable for a variety of reporting needs. For example, a sales dashboard might report against operational figures, and another might show softer measures of an internal culture change programme. With your software in place, all dashboards become quick and easy to update and circulate when needed.
Don't try to please everyone – Everyone has different learning styles, visual preferences and information needs. You'll tie yourself in knots trying to satisfy them all! So instead, just focus on your target audience, begin as simply as possible and let your dashboard evolve over time and in response to actionable feedback.
Share it! – Your organisation's decision-makers need to know about your dashboard – so tell them, and explain its value – offering training where necessary. The more you can share the progress of your business strategy across your business, the more likely you are to achieve success. Transparency supports success because employees feel more engaged and motivated to perform when they feel involved, consulted and respected.
The importance of KPI software
Scoreboard is a software package that makes it quick, easy and intuitive to create professional dashboards for management reporting. From drag & drop widget functionality and API integration to automatically pull business data to populate reports in real-time, Scoreboard allows organisations to raise their game with impactful KPI dashboards.
Use it to create tailored reports, presentations, task lists and scorecards too. It works for organisations of all kinds and all sizes, and we are pleased to offer a free and no-obligation 30-day trial of Scoreboard
Developing KPIs
Before you start thinking about a KPI Dashboard you will need to get your Key Performance Indicators sorted out. Download the free e-book today.
Developing Meaningful KPIs takes you through a simple but tried and tested process of developing the KPIs that you really need. Read our guide.
Sample KPI Dashboards
The following dashboards are from a demonstration system. Scoreboard and QuickScore have a 'shared dashboard' function where dashboards can be displayed free of charge to viewers. The viewers do not need to sign into the application.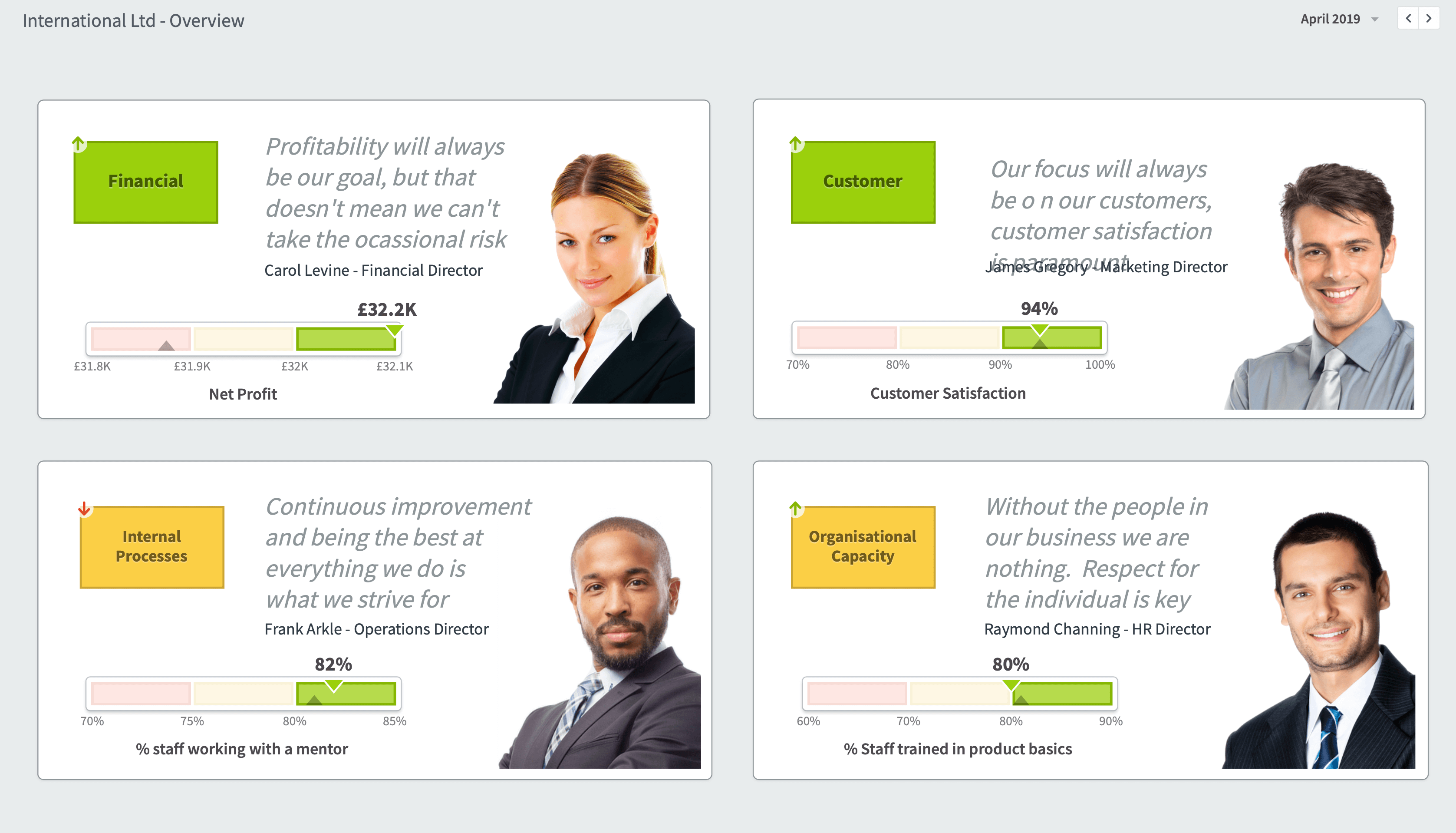 This second example looks at financial information, notice how comments can be added.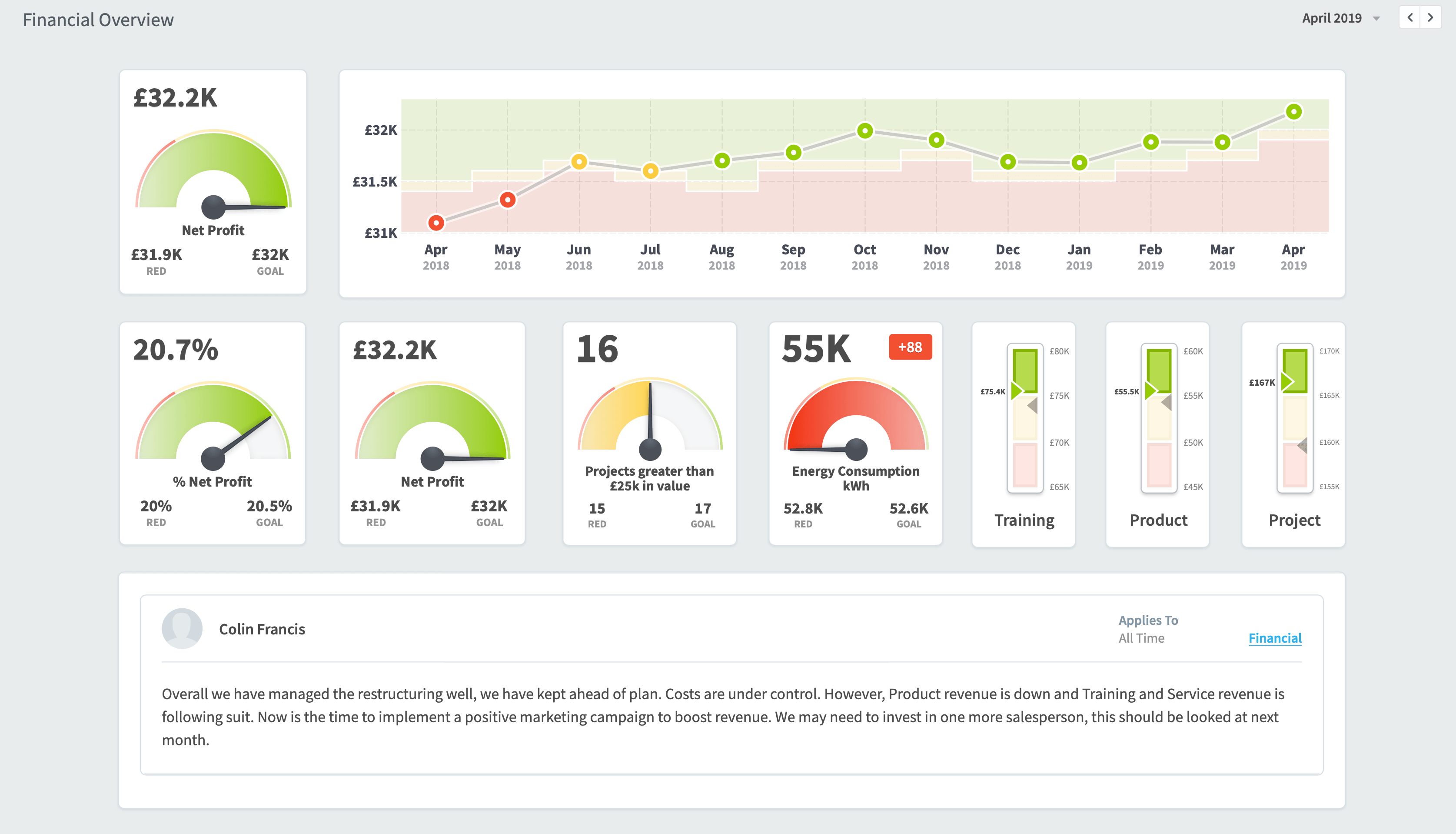 The final example looks at a Sales and Marketing Overview