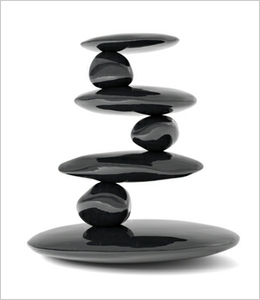 More than 50% of large companies in the world use the Balanced Scorecard as a business performance management tool. A large percentage (number unknown) of small to medium sized companies use it as well. The companies that use the Balanced Scorecard successfully tend to be 'strategically focused'. That is, they use it to translate business strategy into business objectives that have associated performance measures and initiatives. These are monitored on a regular basis. Furthermore, these objectives, measures and initiatives are cascaded down and across the organisation and made relevant to divisions, departments and individuals.
This, of course, is easier said than done. It is one thing to understand the Balanced Scorecard in principle, it is entirely another to understand it in practice. In their book 'The Institute Way' Howard Rohm et all acknowledge that "The Balanced Scorecard is not complicated, but it is not easy either" and why should it be easy? Business performance management for any company small or large is usually based around areas that are unique to their business. They will be sailing in unchartered waters. Clearly there will be some areas that are common to all businesses, but these are not the areas that will cause the business to grow. The growth areas, or strategic areas, will be the unique selling points (USPs), the new products and services, the new ways of dealing with and managing customers. All of this new stuff needs to be managed in a structured way in the same way the day to day operation of the business is managed in a structured way.
It is here that Balanced Scorecard Software comes into its own. It is a strategic management tool that provides the framework to manage the growth of a business or organisation. It can, and should, be linked into operational management, but it is not the same thing.
Not understanding this distinction can lead to a failed implementation. One of the prime reasons frequently cited for failure is 'lack of buy-in' from both management and practitioners. Why is there a lack of buy-in? On close examination it seems to come from a lack of understanding of how the Balanced Scorecard methodology actually works. As stated above, the subject is not complicated, but it is not easy either. To understand the methodology, training is required. In all other areas of business where a new methodology or practice is introduced training plans are put in place. For example, in project management, if the Prince2™ methodology is adopted, then foundation courses through to advanced practitioner courses and certifications are available for both management and practitioners. Any company using Prince2™ would not think twice about sending their staff on courses to become qualified.
In business performance management there is often a different school of thought. It tends to run along the lines of "our company is different and so our management techniques are different, we train for this while on-the-job" or worse still "management practice is not difficult, we have a good library of books available". The Balanced Scorecard methodology cannot be learnt in a day. It can be learnt from a book, but only by people who are good at learning things from a book (there are not many people like this). As with any subject that is "not that easy" formal training is always the best answer. To get the most out of any Balanced Scorecard implementation add training to the initial investment. With skilled managers and practitioners the chances of success are multiplied ten-fold.
Intrafocus runs Balanced Scorecard Professional courses in London, England every year, the course is underwritten by the Balanced Scorecard Institute and certification provided by the George Washington University.