Strategy Resources
Government & Defence
Let us help you demystify strategic planning
Government and Defence G-Cloud 13 Framework
Intrafocus is a Crown Commercial Service Supplier to the UK Government's Digital Marketplace called the G-Cloud 13 Framework. Any government department can order Spider Impact quickly and easily through the existing Digital Marketplace processes. You can find the Intrafocus entry here: KPI and Management Dashboards
If you need to manage your KPIs more effectively and make decisions based on the output, Spider Impact can link measures to goals, objectives and initiatives/projects. The output can be presented as aggregated dashboards, reports/charts and briefings both online and as documents in multiple formats. The software is already used extensively by governments and commercial enterprises around the world. One of the largest implementations is the US Army. Why not book a 45-minute demonstration Today?
The US Army
The US Army has implemented Spider Impact® as its Strategic Management System (SMS). First available in 2006, and enhanced over time, the Strategic Management System is a web-based application secured through CAC authentication. It is used to track performance and mission objectives on both classified and unclassified US Army networks. A case study is available on the right-hand side of this page.
The software and implementation is provided by Spider Strategies® the authors of Spider Impact. Spider Strategies Alexandria, Virginia, was awarded a $42,000,000 firm-fixed-price contract for support of the Army Office of Business Transformation's Strategic Management Support Program Office.
Intrafocus is an authorised reseller of Spider Strategies software and services for Europe, the Middle East and Africa. We have provided Spider Impact and related services, including KPI training and strategic consultancy, in the region since 2011. Our customer base includes government, military, not-for-profit and commercial organisations. 
The video below is walkthrough demonstration of the software and includes visual references to Intrafocus customers, many of which are already engaged with the Ministry of Defence. For a full demonstration of the software, please watch the video on our KPI Software page or take out a free trial or contact us for a live online session. 
Spider Impact
Spider Impact is a KPI (Key Performance Indicator) management tool. It is used extensively around the world and provides a structured approach to building scorecards, dashboards, tasks and reports. The application allows you to take disparate data from multiple data sources and aggregate it in a way that is useful to your organisation. The dashboards can be displayed in the application or in any HTML based environment free of charge using the 'shared dashboard' function. You can find out more about the KPI software and how to develop meaningful KPIs and dashboards in the free resources section on the website.
Spider Impact uses a structured scorecard approach to managing your KPIs. Building one scorecard or a set of scorecards is easy. You determine how many scorecards you need, how you want to organise them, the main areas you want to look at and who owns each KPI. The application takes this information and displays it using a framework as shown in the example below. In this example, a demonstration for the British Army, you can see a set of scorecards in the menu structure on the left and the scorecard framework on the right.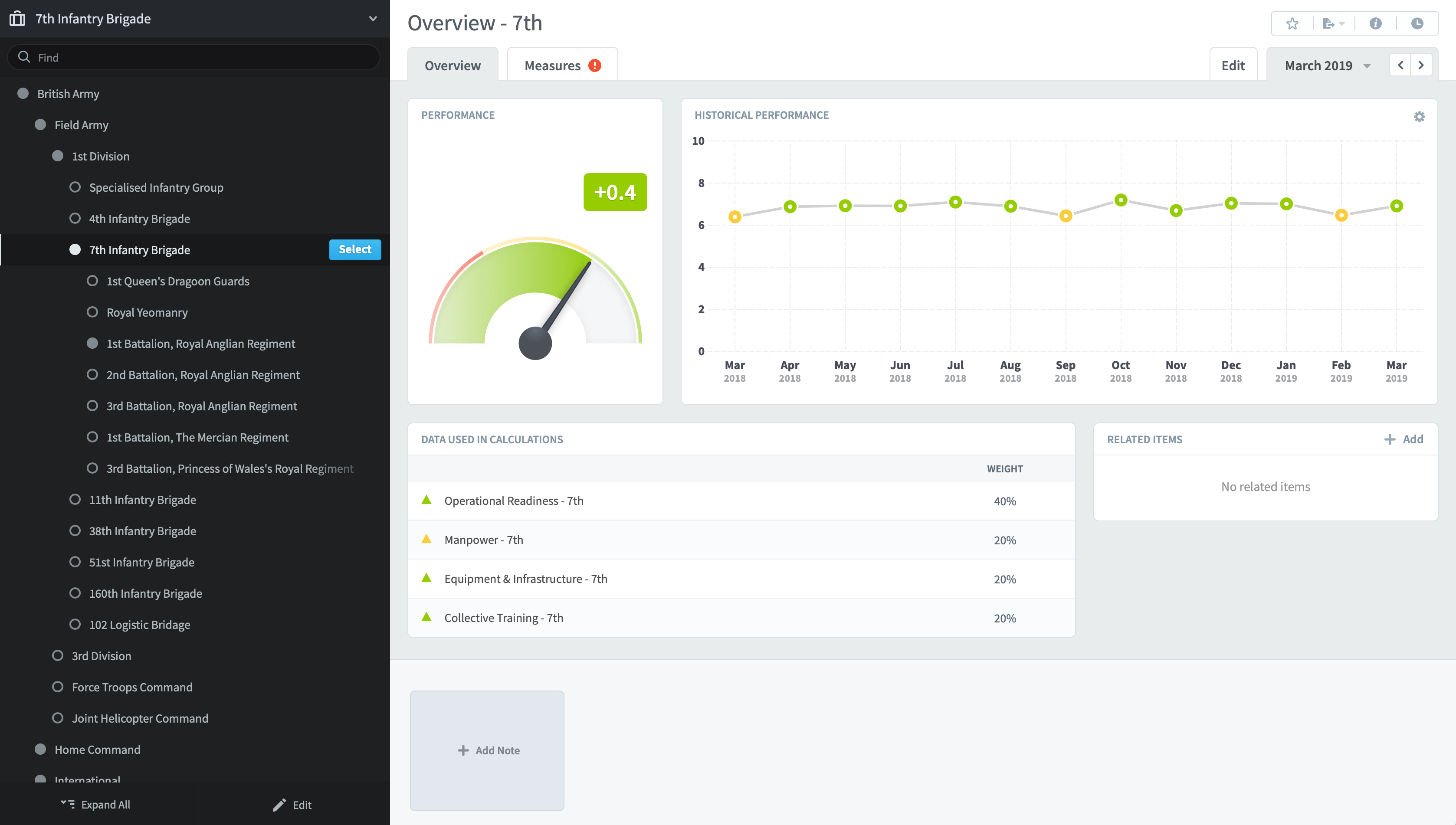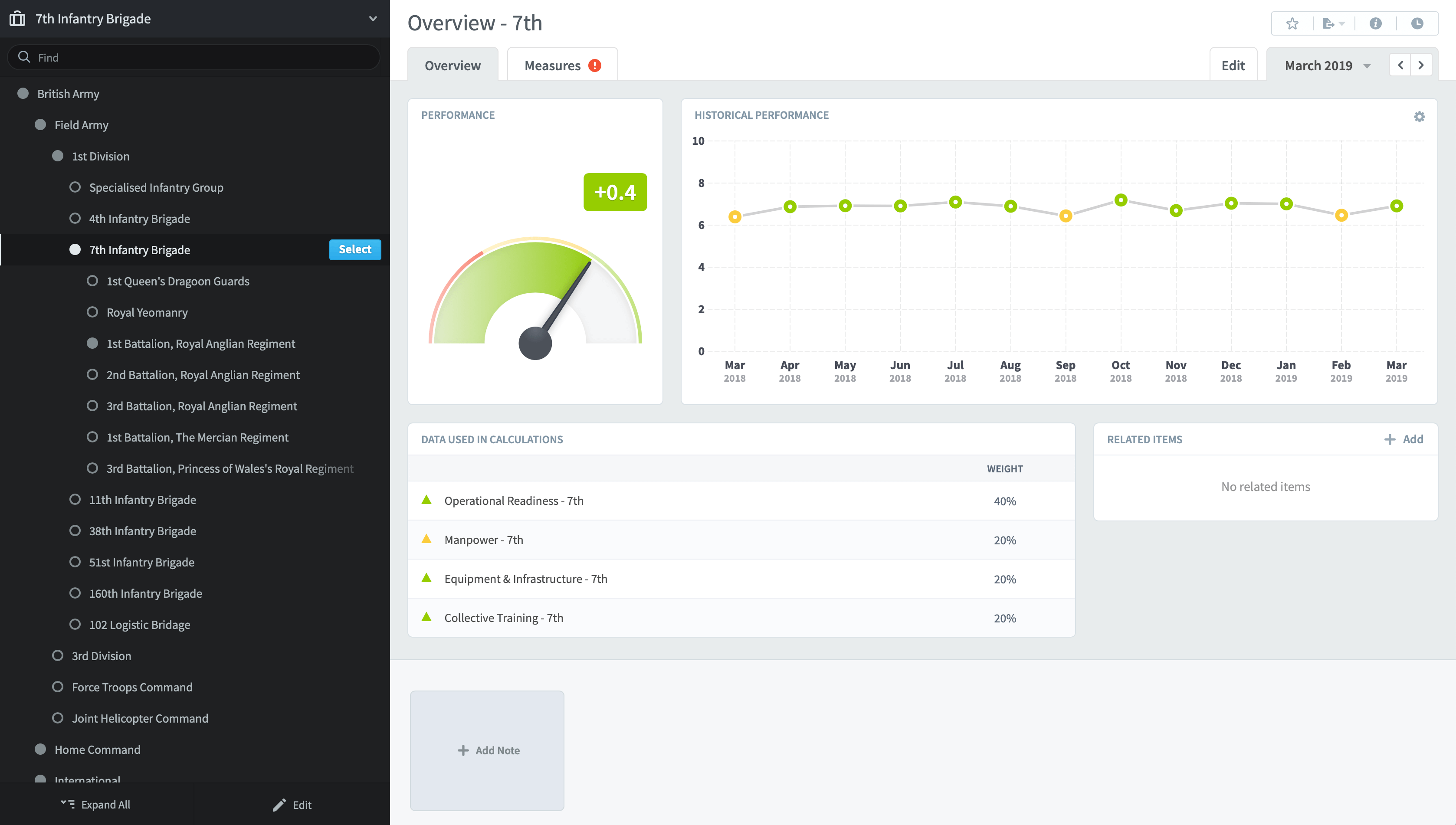 Once a scorecard or set of scorecards has been created then individual KPIs can be tracked. More importantly, data from the scorecards can be aggregated into common areas of interest and displayed as dashboards. The dashboards in turn can be aggregated into full reports or briefings and either exported or displayed online using the briefing module. An example of a dashboard is below, this one has been taken from the British Army demonstration system: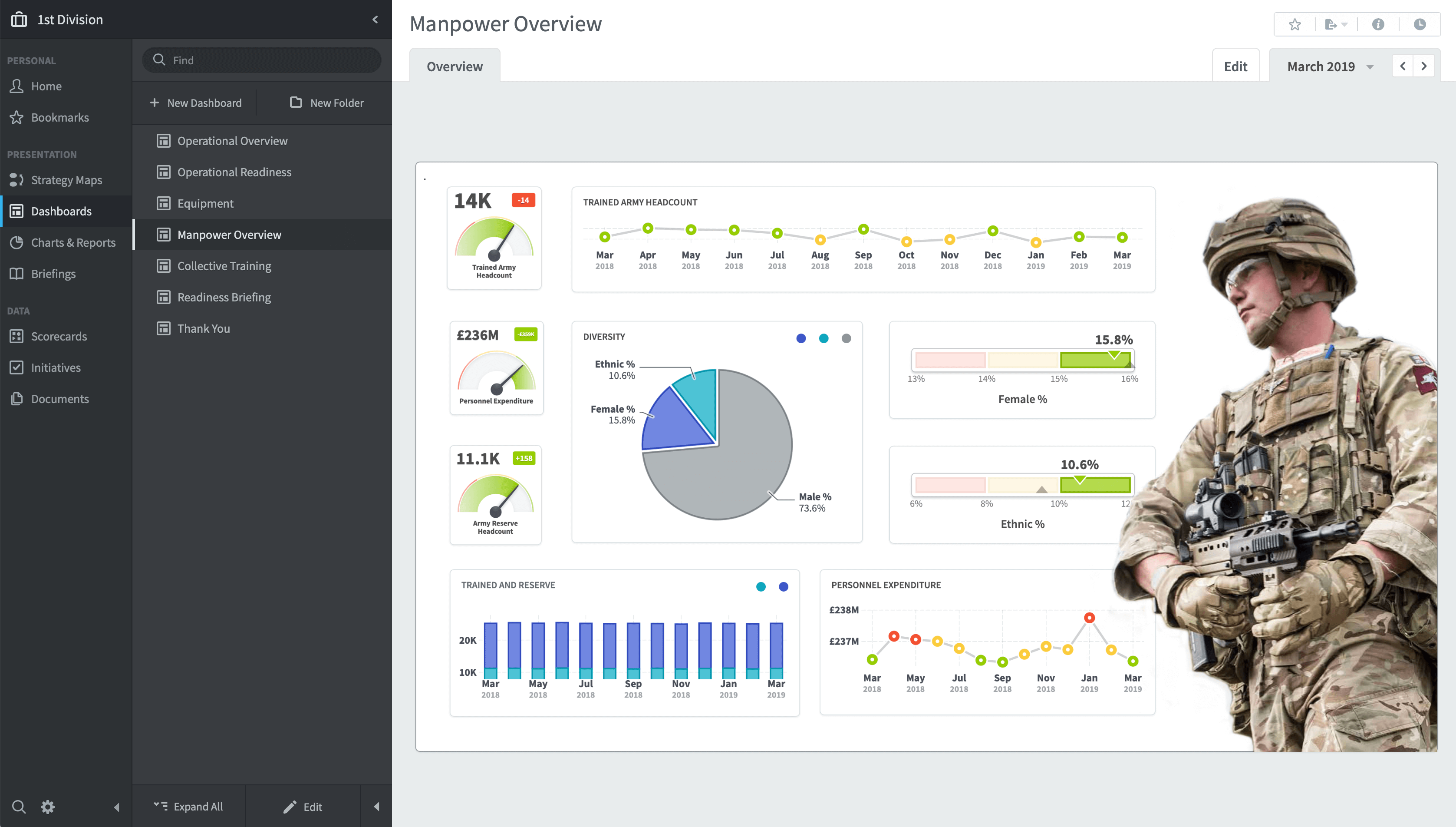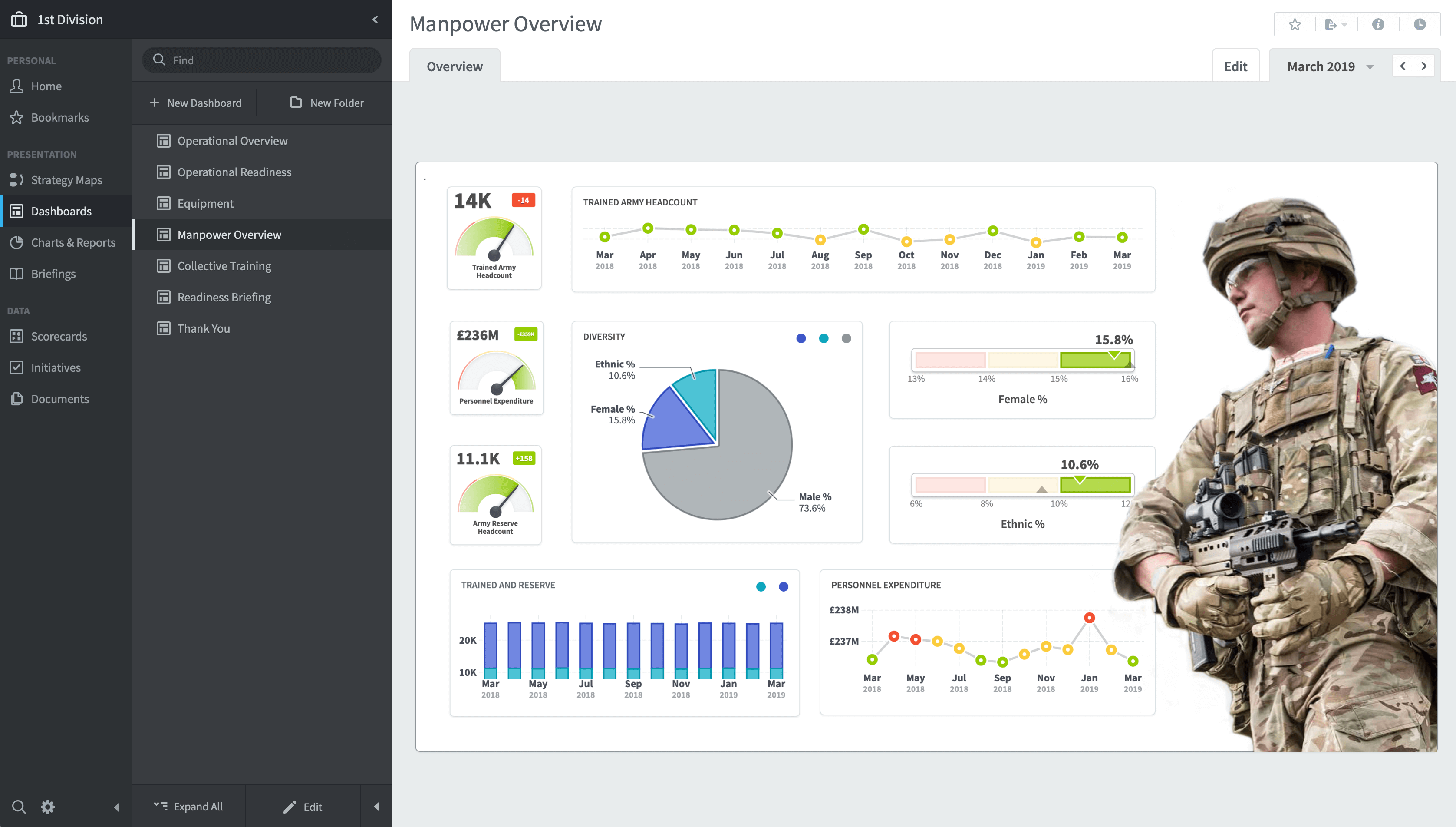 Training and Consultancy
Using Spider Impact to build a KPI management system is a relatively simple task, especially if you start small and build-out over time. However, as with any new application, time is required to understand how things work and what best practices can be used. Intrafocus can provide training and workshops to suit every level of requirement from simple one-day training classes to certification in a strategic methodology.
Scorecard Training
If you already have existing key performance indicators and have structured them into groups using, for example, a spreadsheet then we can provide one-to-one training with your application administrator. The training usually takes one or two days depending on the complexity of the system you want to build. We will take you through the stages of building a scorecard followed quickly by an aggregation exercise to create some dashboards and row and column reports. These in turn will be brought together into a final report or briefing. Full details: Scorecard Training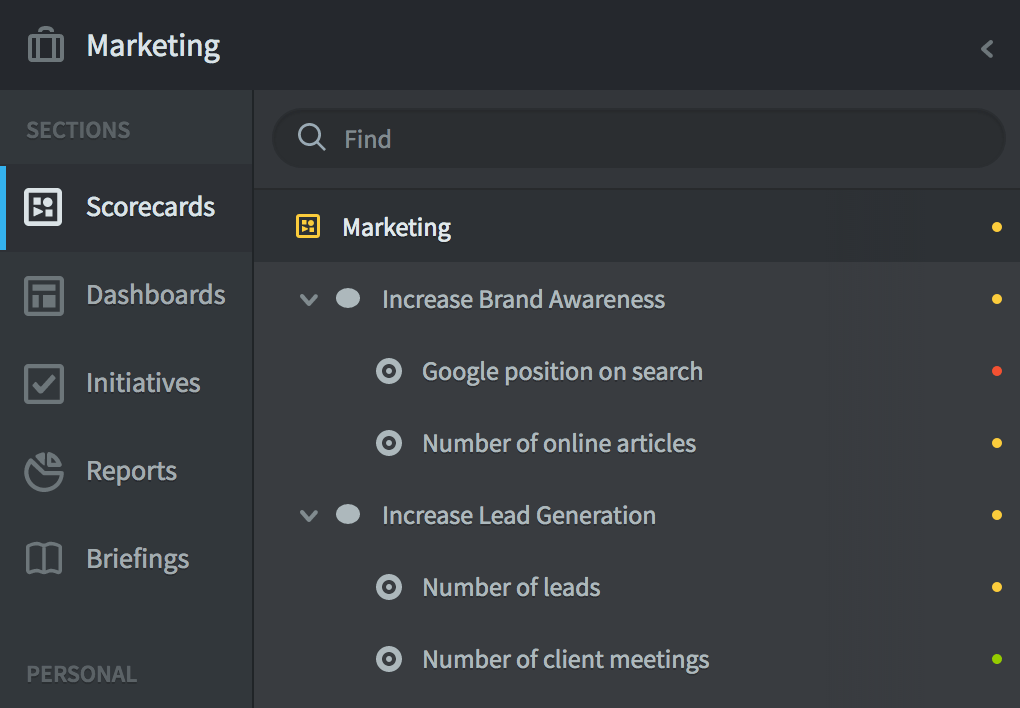 Strategic Process Training
If you are looking at more than KPI Management and want to align your KPIs to your strategy then Intrafocus can help with its Seven Step Strategic Process. Most leaders have a pretty good idea as to where to take an organisation, but the management team and the workforce are so busy with day-to-day activities, nothing seems to change. Bringing in a skilled strategic process consultant to act as a teacher and facilitator to kick-start the activity with a rock-solid process and a structured workshop can make a real difference. Full details: Strategic Process Training
Strategic Professional Certification
Intrafocus is one a a few companies world wide that is an Affiliate of the Balanced Scorecard Institute and  Spider Strategies the product authors of Spider Impact. This places us in a unique position to not only provide Balanced Scorecard Professional (BSP) courses but to underpin our teaching with a world renowned software product already used extensively by organisations like the US Army. The BSP course certifies practitioners through the George Washington University and the Balanced Scorecard Institute. The 5-day course mixes teaching with numerous practical exercises to reinforce the learning process. Full details: Balanced Scorecard Professional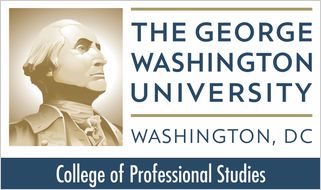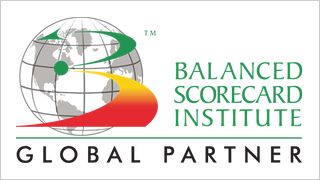 Thank you for an inspiring, motivational and enriching course. I am taking away with me a lot of ideas how my organisation can improve its strategic work.

Coleen Heemskerk, Policy Advisor on Quality Assurance, Church of Sweden
The three-day course was very helpful for supporting our senior management team to better understand the strategic process and how to coordinate corporate and departmental strategies, initiatives and priorities. The workshop, through its exercises and discussions, enabled us to narrow these down to the priorities that would add the most value to our global business.
Sturle Pedersen, CEO, Gexcon
The Balanced Scorecard three-day workshop with Intrafocus was invaluable for aligning our senior team. We all had our own ideas but the workshop, through a set of exercises and lively discussions, enabled us to narrow these down to the priorities that would add the most value to our business
Bruce Bultitude, Chairman & Managing Director, Power Jacks
Spider Impact Trial
Take out a 30-day free trial today.
No obligation, no credit card required